IceGate : Remote EDI System (RES)
Directorate of System implemented use of Digital Signature Certificate for filing Customs documents through Remote EDI System (RES) like Bills of Entry, Shipping Bills, IGM, EGM, CGM, etc.
Who need to use DSC on ICEGATE website?
All Importers, Exporters, Customs Brokers, Shipping Lines, Airlines or their agents who are authorized to file document (BE/SB/IGM/EGM/CGM etc.) through Remote EDI System (RES) are advised to use Class-3 DSC.
What is Common Signer Utility on ICEGATE website?
Keeping in view the different platforms of RES utilities deployed by users and to avoid delay in submission of documents at ICEGATE, web-based Common Signer utility access has been provided to the users across the country free of cost through ICEGATE website for signing all the Customs Documents. The Common Signer utility however would be developed & installed at CA's website. The following are the key parameters of the common signer utility:
Web-based Common Signer freely available to all the users through ICEGATE portal
It is a platform independent and verifies user's DSC validity, online CRL checks etc. at the time of signing.
This component may be used with a valid Class–3 DSC
Person authorized for signing documents shall use DSC in his name and execute signing process as specified under flow-diagram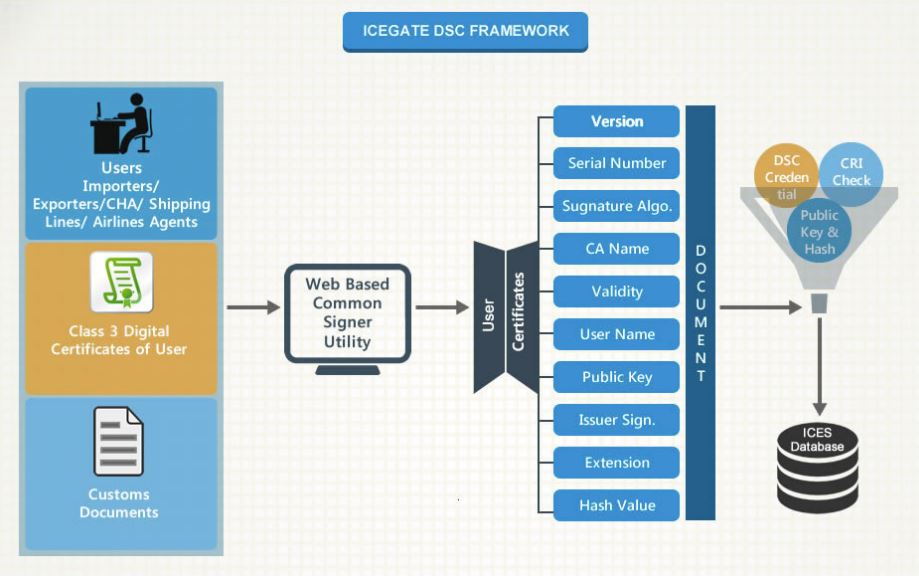 What are the benefits of using DSC in IceGate?
It is possible that the price of Class-3 DSC will be cheaper in 2021. There are many benefits implementing digital signature for ICEGATE inbound messages:
Authentication - Digital signatures are used to authenticate the source of messages. The ownership of a digital signature key is bound to a specific user and thus a valid signature shows that the message was sent by that user.
Integrity – With Digital certificates it can ascertained that the message has not been altered during transmission. Digital Signatures provide this feature by using cryptographic message digest functions
Non Repudiation - Digital signatures ensure that the sender who has signed the information cannot at a later time deny having signed it . In case of legal issues user can be held liable for documents received from him.
Tracking - A digitally signed document can easily be tracked and located in a short amount of time.
Environment friendless - By implementing Digital signature lot of paper can be saved, which in turn may reduce the number of trees which are cut for making the paper.
What is IceGate
IceGate is a shortened form for - "Indian Customs EDI Gateway". It is the gateway for the users of Customs EDI application in India.
All the Individuals (Importers/Exporters/CHAs/Airlines/Shipping Lines/Shipping Agents etc.), trade partners (Banks/Custodians/PQIS/FSSAI etc.) or Govt. Agencies (Ministry of Commerce/DGCI&S/DG, Valuation/DGFT/CRIS/CONCOR/Ministry of Steel etc.) connect ICEGATE for documents filing (BE/SB/IGM/EGM/CGM etc.), data sharing under Customs Business Process (several information shared through messages with the help of Server to Server SFTP communication system) or for administrative, statistical, analytical or policy making purpose through SFTP in automated environment. It provides Remote EDI Services (RES) to the trade and industry for filing documents, data exchange, e-payment, status enquiry, document tracking, query-reply etc.